Getting into a habit of writing down my weekly workout goals has been one of my biggest motivators. Seeing what I want to accomplish on paper has directly contributed to the accountability factor of me leading a more active life. Plus, I feel super badass at the end of the week looking at what I've crossed off. I like feeling the reward of self-discipline.
What has worked best for me has been to keep a very simple schedule. I found when I wrote down too many details, it could look a lot more intimidating than it actually was.
Here's generally what my schedule looks like:
Monday – Leg Day

Tuesday – Trail Run (weather permitting)

Wednesday – Upper Body/Core Day

Thursday – Rest Day

Friday – Cardio/Resistance Day

Saturday – Day Hike (weather permitting)

Sunday – Rest Day
My goal is to get into the gym or outdoors 4-5 times per week. However, I think that it's important to listen to my body, and make adjustments to that schedule when necessary. For example, I'm currently a little under the weather and I've made the choice to rest and hydrate these last couple of days.
It can be discouraging and easy to fall off track when something doesn't go as planned or expected. When I'm presented with an obstacle this quote always comes to mind: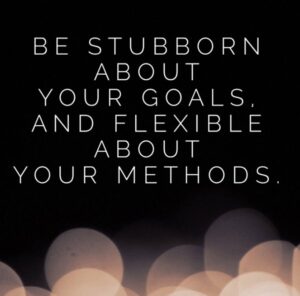 Be flexible. It's key. Life will always throw curve balls when it seems most inconvenient. Adjust, re-route and never stop pushing toward what you want out of life.