Today is my third day of embarking on a dietary experiment. I have decided to take a shot at a legitimate vegetarian diet for a full 30 days. Over this 30 days I will track all my food expenses to see if there are any financial benefits of not purchasing meat and fish. Not only am I excited by the challenge, but curious to see if I feel a positive or negative difference in my body. That being said, how the f*** do you rinse quinoa without it literally ending up in every crevice of the kitchen? My strainer and I were not ready.
I meal prepped 3 dinners with the following recipe entitled so appropriately:
How the Fajita Quinoa Bowl
Fajita style veggies mixed with delicious red quinoa, avocado, and cheese! Very hearty and it really did a great job fueling an upper body workout. Simple, quick prep for colorful and delightful meal!
Prep Time: 15 Minutes Cook Time: 20 Minutes Total Time: 35 Minutes
Servings: 3 Meals Calories Per Serving: 540 Calories
Ingredients:
1 and a 1/2 Avocados
1 Red Onion
1 Large Ripe Tomato
1 Green Pepper
1 Red Pepper
3-5 Garlic Cloves, smashed and chopped
1 Cup Quinoa of your choice (I used Red Quinoa)
3/4's cup Cheese of your choice (I used Colby Jack)
2 Tablespoons Olive Oil
Salt/Pepper and seasoning of choice (I used Garlic Chipotle)
I started this prep by rinsing the quinoa and getting that on that stove. It has to cook for 15 minutes on heat, and 5 additional minutes removed from heat. Once I had the quinoa on the stove I set a timer for 20 minutes. Before starting to cut up vegetables I prepped a large skillet with olive oil. Next I sliced up the green and red pepper, red onion, cubed the tomato, and halved out the avocados. For my cheese I usually just buy a block, you can shred or cube it ( I prefer cubes). Get your skillet turned on Medium-high heat. With about 10 minutes left on the kitchen timer I tossed the veggies in the skillet, stirring them regularly( I like them crunchy and factor in re-heating them for my prepped meals). Salt and pepper the veggies to your preference. Remember to pull the quinoa off the burner and let it sit for the remaining five minutes. Once that is complete season the quinoa to your preference. It definitely needs a little seasoning love in my eyes.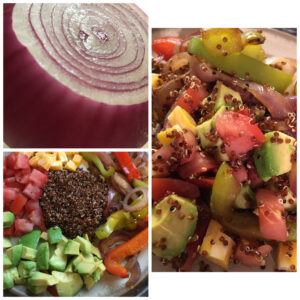 I equally portioned out everything into 3 servings, however I did have some quinoa left over. I say you could get away with 3/4's of a cup vs doing a whole cup!
I hope you enjoy this meal as much as I did!